Upcoming Auctions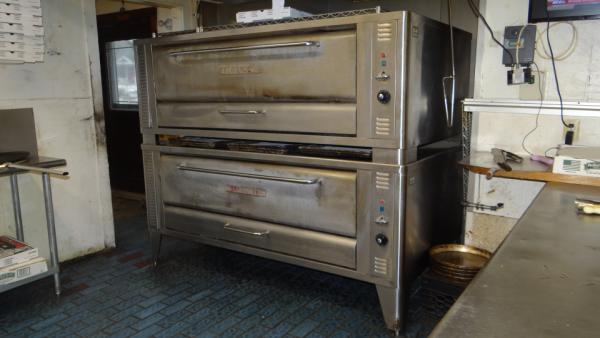 CAPTAIN HOOK'S RESTAURANT * ONLINE ONLY
Mar. 24, 2023, 10:00 AM EST — Gloucester, MA
Bidding Types Available:
Silent Online Proxy Bidding
STANLEY J. PAINE AUCTIONEERS


IN ASSOCIATION WITH ED SMITH SELLS AGAIN
WE WILL SELL AT ONLINE PUBLIC AUCTION (ONLINE BIDDING ONLY) THE ENTIRE
CONTENTS OF CAPTAIN HOOK'S RESTAURANT * ONLINE ONLY.
EVERYTHING GOES!
PARTIAL LISTING: 2 BLODGETT MODEL 1060 GAS FIRED BRICK DECK PIZZA OVENS, GLOBE MOD SP-30 (30 QT) DOUGH MIXER, BERKEL MOD 827A MEAT SLICER, HUNTER MOD HL-80 FAT FILTRATION UNIT, 3 SANDWICH UNITS (2) 48" (1) 27" S/C, BEV-AIR UPRIGHT 2 DOOR S/C REF S/S, HATCO MOD FSDT-2 PIZZA WARMER, 2 PITCO MOD SG-14 GAS FRYOLATORS, 11' S/S HOOD, FANS, FIRE SYSTEM, 1 DOOR UPRIGHT FREEZER, 175 ROUND 15" PIZZA PANS, PIZZA DOUGH BOXES, HAND SINKS, LARGE LOTS OF S/S ASSTD SIZE INSERTS, SHEET PANS, STOCK POTS, SAUCE PANS, UTENSILS, PAPER GOODS, ONION AND TOMATO SLICER, ERECTA SHELVING, S/S WALL SHELVES, DUNNAGE RACKS, CAMBRO ROUND AND SQUARE MEASURE TUBS, MODINE GAS HEATER, 4 LIFE LINE PICNIC BENCHES. MANY MORE ITEMS.
406 WASHINGTON STREET, GLOUCESTER, MA 01930
BEGINNING WEDNESDAY, MARCH 15TH AT 10:00 AM.
ALL LOTS START CLOSING. FRIDAY, MARCH 24TH @ 10 AM AND WILL CONTINUE TO CLOSE @ 4 ITEMS PER MINUTE.
INSPECTION TUESDAY, MARCH 21ST 10:00 AM TO 3:00 PM ONLY.
REMOVAL MONDAY, MARCH 27, FROM 9 AM TO 4 PM. BUYER WILL BE RESPONSIBLE FOR REMOVAL AND DISCONNECTING OF ALL THEIR PURCHASES BY DEADLINE. BRING PLENTY OF HELP AND TOOLS THAT YOU WILL NEED FOR REMOVAL, SUCH AS RIGHT SIZE TRUCK, DOLLIES, HAND TRUCK.

Everything Must Be Off Premises by Monday, March 29 @ 4:00 PM (No Exceptions).
TERMS: 18% BUYERS PREMIUM WITH A 3% DISCOUNT FOR CASH OR CERTIFIED CHECKS OR WIRE TRANSFER. ALL CREDIT CARDS 18% BUYERS PREMIUM (NO EXCEPTIONS). MC, VISA, DISCOVER.

STANLEY J. PAINE AUCTIONEER MA LIC # 120
EDWARD F. SMITH, SR. AUCTIONEER MA LIC # 126

STANLEY J. PAINE AUCTIONEERS
300 WASHINGTON STREET
NEWTON, MA 02458
WWW.PAINEAUCTIONEERS.COM
617-731-4455

AVENUE AUCTION SALES
80 MYRTLE STREET
QUINCY, MA 02171
617-770 -1600


---
Dorchester, MA - 336 Adams Street, Unit 17, Dorchester - SALE OF REAL ESTATE AT PUBLIC AUCTION UNDER M.G.L. C.183A:6
Auction is Cancelled
Bidding Types Available:
On Location
SALE OF REAL ESTATE AT PUBLIC AUCTION UNDER M.G.L. C.183A:6
PUBLIC AUCTION

336 Adams Street, Unit 17
Dorchester, MA 02122

AN APPROX. 930± SQ. FT. CONDO FEATURING 4 ROOMS, 2 BEDROOMS AND 2 BATHS.

A DEPOSIT 0F $5,OOO IN CASH, CERTIFIED OR BANK CASHIER'S CHECK WILL BE REQUIRED AT TIME AND PLACE OF SALE. BALANCE DUE WITHIN 30 DAYS. ALL OTHER TERMS TO BE ANNOUNCED AT TIME OF SALE. NEITHER AUCTIONEER, ASSOCIATION OR ASSOCIATION'S ATTORNEY MAKE ANY REPRESENTATIONS AS TO THE ACCURACY OF THE INFORMATION CONTAINED HEREIN AS THIS INFORMATION WAS TAKEN FROM PUBLIC RECORDS.


---