Wood Wall Panel Manufacturing Equipment * LIVE AND WEBCAST *
Auction Information
Stanley J. Paine Auctioneers
Wood Wall Panel Manufacturing Equipment * LIVE AND WEBCAST *
---
Auction Address:
415 Millennium Circle
Lakeville, MA 02347
Jun 11, 2019, 11:00 AM EST
Preview Info:
Morning of Auction from 9:00 AM
Buyer Premium:
Tax Rates:
Online Check - 3.000%
Online Cash - 3.000%
Online CC - 6.000%
Onsite CC - 3.000%
Check - 0.000%
Cash - 0.000%
Other - 0.000%
Other - 0.000%

---
Auction Description:
Bankruptcy Sale @ Public Auction
Re: Sapphire Enterprises, Inc.
WOOD WALL PANEL MANUFACTUING EQUIPMENT
LIVE AND WEBCAST
BID ONSITE OR BID ONLINE
415 MILLENNIUM CIRCLE (RT. 44)
LAKEVILLE, MA
TUESDAY, JUNE 11 AT 11:00 AM
INSPECTION MORNING OF SALE - 9:00 AM

Panel Saw * Plate Maker * Power Tools
Ladders * Generators * Air Compressors

2017 Wasserman 12' x 6' Framing Table with Pop-up Skate Wheel Conveyor & Monet DeSauw Single Tool Programmable Panel Bridge, SN MDPB082117, 2017 Spida Model 1206 Plate Marker with 26'x 4" Table, SN M12652, (2) Asst Port. Generators, (2) Port Air Compressors, (15) Asst Nail Guns, Chop & Table Saws, (30) Asst Elect. Saws, Grinders, Drills, Ladders, Power Cords, Horizontal Air Compr., Mill Saw, Dust Collectors, (2) Asst Panel Saws, H.D. Stock Carts, (8) Plastic Carts, Lg Qty. Asst Wood in Asst Lengths, Etc.

TERMS & CONDITIONS: NO BUYER'S PREMIUM. A deposit of $200 in cash, certified funds, or bank letter of guarantee w/check. 6% administration fee w/a 3% discount for cash or certified payment an additional 3% discount for onsite bidding. Balance due immediately following auction. To be sold for immediate removal. Inspection 9am sale day or call Wally Nordberg @ 617-593-4934 for private inspection. All other terms announced at sale. The Honorable Frank J. Bailey, Bankruptcy Judge For Sapphire Enterprises, Inc., Case # 19-10384-FJB. Donald R. Lassman, Esq., Trustee, Needham, MA.
---
Photo Gallery: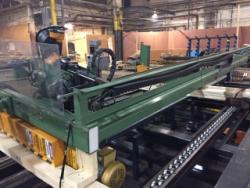 Contact Information
Email Address: stan@paineauctioneers.com
Phone #1: 617-731-4455
Phone #2: 877-731-4455
FAX: 877- 258-9909