Leather * Linings * Hardware * Thread * Velcro * Zippers and Finished Leather Products *Live and Webcast*
Auction Information
Stanley J. Paine Auctioneers
Leather * Linings * Hardware * Thread * Velcro * Zippers and Finished Leather Products *Live and Webcast*
---
Auction Address:
71 Linden Street
Lynn, MA 01905
Sep 24, 2019, 11:00 AM EST
Preview Info:
Inspection Morning of Sale at 9 AM
Buyer Premium:
Tax Rates:
Other - 0.000%
Online CC - 18.000%
Credit Card - 18.000%
Check - 15.000%
Cash - 15.000%

---
Auction Description:
PUBLIC AUCTION
* LIVE AND WEBCAST *
Leather * Linings * Hardware * Thread * Velcro * Zippers and Finished Leather Products
*LIVE AND WEBCAST *
New England Leather Accessories, Inc.
Surplus from the Ongoing Operations
Leather:
· lots of all one color & weight with specified # square feet
· many colors
· many thicknesses
· Assorted colors and weights auctioned by the pound
· lots separated by size of pieces

Hardware:
· Many belt buckle lots, solid brass with silver or gold plate
· Gold chains, frames, magnetic closures, rings, attachments
· Black metal  & plastic buckles, strap closures & adjusters Thread, velcro, etc.
· Boxes of spools of nylon thread #69 tan and #207 natural
· Boxes of assorted fixed length zippers - thousands - nylon
· Some nylon chain zippers and pullers

Textiles and Linings:
· Imitation leathers by the roll, multiple part rolls, colors & lbs.
· Canvas, cordura, ballistic nylon, faille, cotton, velvet, etc.

Finished products:
- Totes, wallets, card cases, coin pouches, travel kits, fanny packs, cellphone pouches, whips, cosmetic & ditty bags, purses, shoulder wallets, passport cases & wallets, note pads, writing portfolios

EVERYTHING MUST GO! IMMEDIATE REMOVAL!
71 LINDEN STREET, LYNN, MA
TUESDAY, SEPTEMBER 24 at 11:00 AM

Inspection 9:00 AM
General Public Welcome to Bid

REMOVAL: Wednesday, September 25th and Thursday, September 26th 9 am - 4 pm
Terms: $200 Cash Deposit To Obtain Bidder's Card. Full Payment Immediately Following the Auction by Cash, Check or Bank Letter Guaranteeing Payment. Inspection Morning of Sale at 9 AM. 15% Buyers Premium. Payment by Credit Card 18%. Mass Sales Tax 6.25%. All Other Terms To Be Announced Prior to Sale.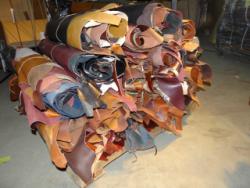 Contact Information
Email Address: stan@paineauctioneers.com
Phone #1: 617-731-4455
Phone #2: 877-731-4455
FAX: 877- 258-9909